It is the mission of 3C Contact Services to provide clients with top-quality, best-of-class outsourced contact centre services. Specializing in customer retention strategies, we provide state-of-the-art contact centre solutions designed to provide our clients with the greatest level of support.
Enterprise-level technology
World-class customer service
Warm, friendly agents
Canadian workforce
Large, educated workforce
Specialized outsourcing call centre services
They say that Canadians are the friendliest people in the world. We at 3C pride ourselves on taking the values that make Canada one of the most desirable places to live and applying those to our third-party outsourcing solutions. 3C's core set of values includes providing friendly, professional services to our valued clients.
Awards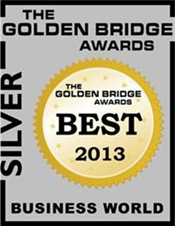 2013 Golden Bridge Award - Silver Winner for BEST Customer Satisfaction in the Business World
"We hired Damian and 3C Contact Services to take over our entire customer support division for Barton Publishing, and the entire process of transitioning from our former provider to 3C has gone unbelievably smooth. Damian and his team are A-players through and through, delivering amazing results in all ways. Their project management system used to bring us on board was the best I've ever seen. Everything was done on time and on budget. Early results have shown this was one of the best business decisions we have ever made as a company, improving our overall customer experience and adding revenue to our top line and profits to our bottom line. I am thoroughly impressed with Damian and 3C and could not give a higher recommendation for a service provider!"
–Owner, CEO at Barton Publishing
"The 3C team now handles all the calls for my company and I could not be more satisfied! Damian and his team definitely deliver on what they have promised: great customer service, an increase in sales, and a drop in returns. I would recommend 3C to anyone who is looking for professionalism and an increase in sales."
–General Manager at AGEIN
"When the 3C team started handling the calls for my company, I noticed an almost immediate turnaround. Refunds dropped, customer complaints started to disappear, and sales went up. Damian was able to not only explain how he was planning to boost my business, but he also executed and delivered. What more could I ask for? Heck, I even recommended 3C to one of my colleagues. That's how impressed I am with 3C."
–President at Lombardi Publishing
READ MORE